I'm fucking off to France tomorrow, so you're going to be spared my rantings and ravings for a week. Whilst you might be breathing a sigh of e-relief at my departure, I bet that 90% of you are weeping inside because I give your lives a sense of purpose, you tossers.
NEWSSSSSSSSSSSSSSSSSSSSSSSSSSSSSSS:
To celebrate their release into the wild, DPM are having a sale on those ever so bland yet ever so street conspiracy t-shirts - you can nab one for a mere ten pence (plus P+P of course - that's how they get ya!) here; http://dpm.bigcartel.com/product/dpm-conspiracy-charge
THINGS TO MAKE AND DO:
With me leaving it's not all doom and gloom, here's some stuff to occupy yourselves with when your wrist has gotten too sore to wank one last time;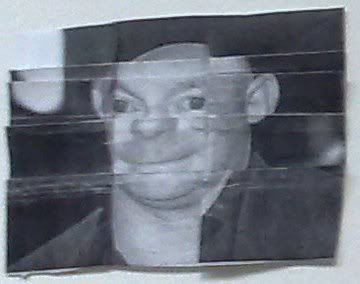 The epic http://kempfolds.blogspot.com/ offers numerous folded photos of Ross Kemp's butters face.
They say that nothing in life is free. However, that's clearly bollocks, because competitions give away shitloads of cool stuff for free on a scarily regular basis. Here's a site which collates a list of shitloads of competitions which are all closing soon, some giving away pretty sweet prizes. My mate won an iPhone through one of them. http://www.theprizefinder.com/index.asp?SectionName=Closesoonpage
And finally, the irrepresibly fun Curveball. Play it!
And, for no particular reason, our man Vier DWS on foreign steel. Niceeeeee.
So yeah, have fun in this shitty, increasingly authoritarian, rainy, expensive, CCTV saturated country that we all love so much. I'm gonna be chilling on a sunny beach, eating fresh seafood, smoking cheap fags and drinking nice wine, and checking out endless tanned bikini clad tarts. Fuck you all, and do me a favour, if you by any chance happen to see any KPS reaches anywhere, stick a big fucking line through them all. LOVELY.
Oh, and just because I'm feeling ultra generous:

Bring back lax security measures...
Oh, and disregard that, I suck cocks...